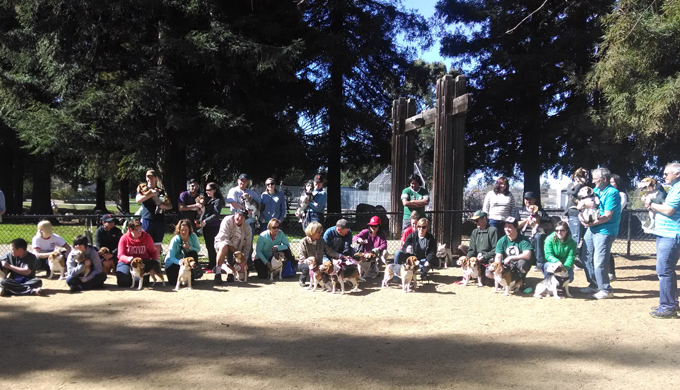 Beagle Meetup
They come one-by-one, or two-by-two; they come in cars, in vans, or on foot, and they filter into the park where the level of excitement increases with each new arrival. The baying and howls announce this is the monthly Beagle Meetup.
We free the hounds from their leashes and stand back to watch their joyful play. Old friends greet each other, new friends meet — circling and sniffing, in the familiar doggie "How d'you do." Then the play begins! They rush from one end of the dog park to the other, their white flags erect, ears flying. At our meetup last weekend there were 40 beagles, we think. How do you count a milling crowd of dogs with similar markings? It was heaven!
---
The beagle owners greet each other as old friends, our only bond being our dogs. We have come to know each other, but usually only by the names of our dogs. The couple who originated and lead our Beagle Meetup, Jim and Tom, are Dru Beaglemore and Mocha's people. Among the pack today are Tucker, Bailey, Brandy, and Barclay's people. And we are Daisy, Chauncey, and Jack's people.
After one hour of play and chatter we are called together for the group photo. We line up in the sun trying to keep some semblance of order while cameras snap, then we gather our happy but tired pack together.
---
Meetups take place all over the Bay Area. Locations can be found on the Meetup website. Every breed of dog, every activity you can imagine can be be found. It's a wonderful resource to bring people of similar interests together.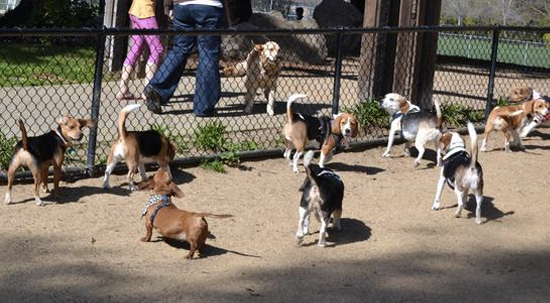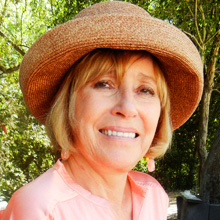 About the Author
Jeremy Lindston Robinson
,
our Vice President