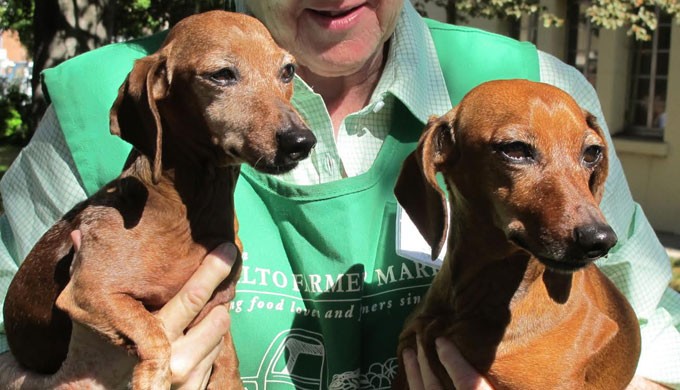 Ginger & Peaches
Palo Alto's Downtown Farmer's Market on Saturdays is a treat for the whole family! Grandparents, parents, children, and frequently the family dogs are regular visitors. Everybody enjoys the live music and the fresh-cooked food, and adults seek out just-picked fruit and vegetables, along with colorful bunches of flowers. But lately the magnet that draws the children is a pair of ladylike dachshunds, Ginger & Peaches.
Long-time companions of Nancy Pleibel, a manager at the Farmer's Market, Ginger & Peaches used to wait in Nancy's car until closing time. Recently, Nancy asked if she could leave the two dogs tied up to a signpost behind the FoPAAS tables. We said Yes, so she brought out a plush bed and a flannel blanket for the dogs' comfort and left them watching the activity on the street from their little perch on the curb.
Then came the magic. Children stopped to look at the dogs and ask permission to pet them. Others in strollers were lifted out by their parents so they could inspect Ginger & Peaches up close. Parents with toddlers paused and demonstrated to their children how to pet the dogs. The dogs relish the affection and attention. Nancy says that when they get home from the market, they fall asleep quickly and dream of that day's adventure.
Enjoy these photos of children in love with Ginger & Peaches. To see a full-size version of a photo, click it. The magic speaks for itself.
Note:  We expect to add photos as we capture more of these lovely moments, so check back in the following weeks….