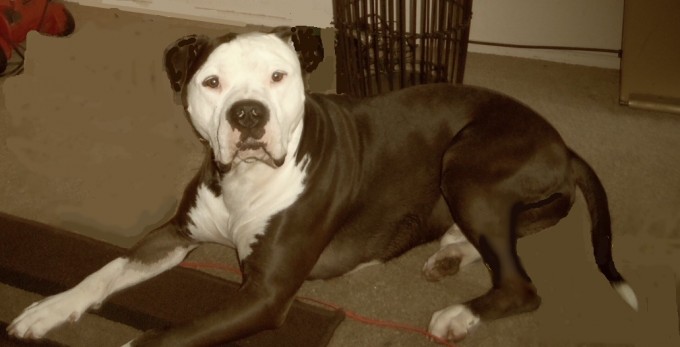 Soldiers With Dogs
George always wanted to be a soldier. When America went to war in Vietnam, George signed up and did two tours of duty.  He was there for the Tet Offensive. He was exposed to Agent Orange.  He saw things no person should see, and it's all stored in his mind, layer upon layer of horror that he can't talk about, even to other veterans.
George joined the Army as a Private, and he came home a Captain. He wanted to return to normal life and his family, but he found it impossible. Nightmares, fear, anxiety all led him where traumatized people go for escape: abuse of drugs and alcohol.  George was a troubled man and finding a peaceful, normal life was out of the question. His training as an accountant led to work in industry, but eventually he lost everything and at one point was homeless. His story is not unusual, though each person has his own unique version.
It was years before George was able to seek help, and when he did he was diagnosed with, among other things, Post Traumatic Stress Disorder (PTSD).  The psychiatrist who finally got through to George prescribed that he get a dog. And so he did. He was lucky when he found Rocky, a massive and loving Rottweiler who had been surrendered to a shelter.
The bond between man and dog was instant.  They became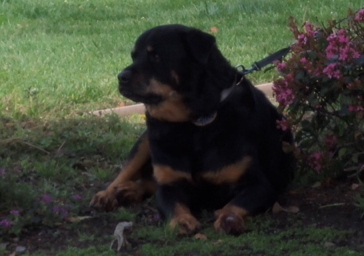 constant companions, and now George had someone in his life for whom he was responsible. He had to provide a stable home, food, and exercise for Rocky, and in exchange the dog gave his greatest gift, unconditional love. As anyone knows who has lived with a dog, this love can heal a broken human being.
George and Rocky were together for nine years. Listed as a Companion Dog with the National Registry of Companion Dogs, Rocky was allowed to live in places that usually do not accept animals. When Rocky finally died, the grief George felt was almost more than he could bear.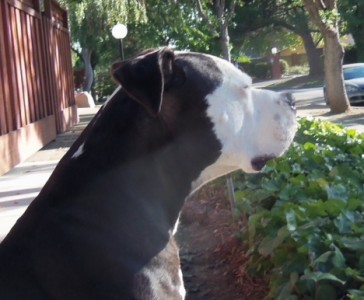 It took two years before he could consider another dog, but then a friend introduced him to a white faced pit bull named Smoke.  Now when George drives anywhere, you see Smoke's handsome face poking out the rear window of the Jeep, sniffing the wind, and smiling.
George says he's been called the poster boy for PTSD because it took him so long to seek help and get the treatment he needs. He takes his meds faithfully, he attends AA meetings (sober 18 years), and he can always be counted on to reach out to anyone needing help. He walked a long road himself before he found Rocky; now he is a strong voice telling other veterans, "Get a dog."  George has learned that devoting yourself to another being who loves you just as you are–no conditions, no judgment–changes your life.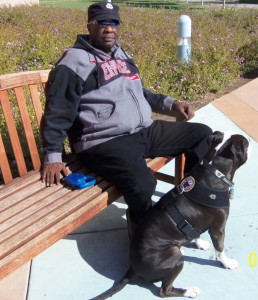 Companion dogs are waiting for adoption at local animal shelters. There are many pit bulls looking for homes, and they seem to be a perfect match for a strong person willing to give these powerful, loving dogs the exercise they need.
The good news for veterans and for shelter dogs is that there are organizations whose mission is to unite a companion dog with a veteran seeking help. These groups work carefully to choose the right dog and give the veteran and the dog all the training and support they need. George is not only a poster boy for PTSD, he is also an example of how a good man was able to find his way again with the help of a loving, loyal companion.