Here Comes Eddie! Palo Alto's New Police Dog
On a sunny Saturday in July, the citizens of Palo Alto were invited to Heritage Park to meet Eddie, our city's newest police dog. Eddie is a German Shepherd from the Czech Republic, and his handler speaks commands in Czech—which Eddie obeys eagerly.
The crowd at the event was treated to a demonstration of Eddie's obedience, and it was clear that he's devoted to his handler and focused on doing what he's told. We also got to see the special Police car Eddie travels in. It has no back seat. Instead there's a platform where Eddie can lie down, and there's special power for air conditioning when the car is parked with the dog inside. Nothing but the best for our K-9 friend!
Eddie arrived in Palo Alto in April, 2013, and he's been living with his handler (standard operating procedure). Both of them have gone through extensive training to prepare for the important work they do together. Right now, they work the night shift, and Eddie's main assignment is to use his nose to find people.
After Eddie showed off his good training, his handler moved to a shady spot and invited audience members to come meet Eddie up close. There was a long line, including many children, and Eddie was happy to greet new friends.
Police Chief Dennis Burns introduced a woman who, with her husband, had donated $1000 to the Police Department. This donation, and others, helped PAPD pay for the purchase of handsome Eddie. It's great that our community chooses to support public services, like the Police, when the City's budget falls short. We can all feel proud that Eddie is here in Palo Alto.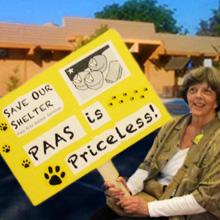 About the Author
Scottie Zimmerman
,
our President