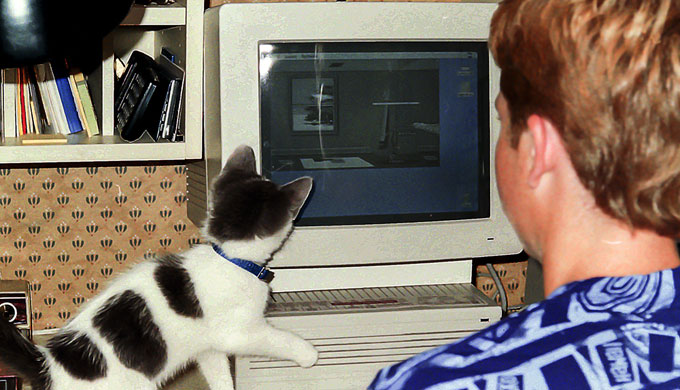 Putter the Kitten Joins our Family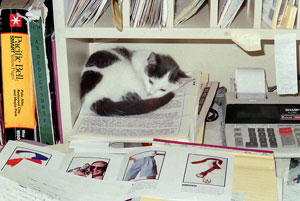 Our son Brad lost his one-year-old cat when he was 13. He desperately wanted another kitten so of course we took him to the Palo Alto Animal Shelter. Brad looked the choices over carefully, seeking a kitten that was friendly and would sit on his lap. We visited the shelter more than once so he could find the very best kitten. He finally chose a lively black and white kitten because she would immediately perk up and brush up against him when he entered the room. Brad's big brother immediately took a liking to Brad's new pet, too.
Since we were a family of golfers, we named the kitten Putter. And what a Putter she was! We had not experienced the playfulness of a kitten this young before. Her antics while exploring her new world kept us in stitches. (We kept her in stitches too for a while after we had her spayed.) Putter would like to find little places to hide—in a box, under the couch, or amongst the Christmas wrappings after the presents were opened. She would go after anything that moved—an image on a computer or a cat toy hung from a string—sometimes jumping up and flipping over backwards before landing on the floor.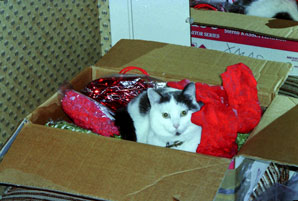 Putter became part of the family. When Dad got home from work he would announce his arrival by yelling, "Putter, I'm home!" before he would talk to anyone else. Visitors to our house would ask about Putter and see if they could get her to sit on their lap. At Christmas, Putter would help us open Christmas presents, often before Christmas! In the winter Putter and our golden retriever would make regular trips to a ski cabin in the mountains. Our skiing friends seemed to love Putter as much as we did.
The boys eventually went away to college . . . but Putter didn't. She was still loved as much as ever and returned that love in many ways. The most demonstrative way occurred after Mom was diagnosed with breast cancer that was soon followed by chemotherapy treatments. For several days after each treatment, she was very tired and would sit in the recliner most of the time. Faithful Putter would get on Mom's lap and sit for hours. Mom's therapy now was to pet Putter, tell her how she was feeling and what she was going to do when she had more energy. Putter would take it all in then roll over for a belly scratch. Putter was an essential part of Mom's recovery and an essential part of our family life.