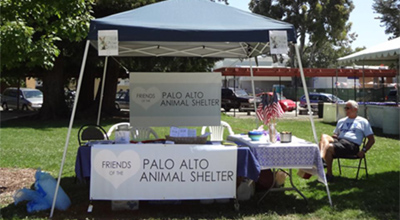 FoPAAS at the Palo Alto Chili Cook Off
Date/Time
July 04, 2012
12:00 am - 4:30 pm
Location
Mitchell Park
The "easy-up" (which isn't) was finally raised with help from the Palo Alto Fire Department's chili cooking team! Hillary, Susan, Maureen and Bob set-up an Information/Awareness booth and Dog Water Station, complete with a variety of dog treats.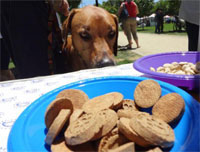 We had lots of great information from Palo Alto Animal Services. Displayed alongside the mighty donation jar, stickers, brochures and Citi-B comics (Thanks, Bill!), is the wonderful notebook of adoptable PAAS pets (Thanks, Sandi!). This crowd-pleaser was very popular, and we hope the results are some forever homes!
There were lessons to be learned.
If you have more than one balloon bouquet they should be kept separate for transportation otherwise they get hopelessly tangled.

Helium expands in direct sunlight causing the balloons to explode. So, the balloons had to be kept in the shade and away from the water bowls.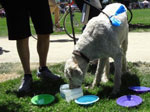 Most importantly,
Dogs don't like water from unfamiliar bowls.

Dogs and balloons don't mix.

Dogs at events like the Chili Cook-off look for shade.
The power of the jar… even without solicitations, the mighty donation jar collected $110.00.
All in all it was a successful day! We met a lot of nice people many of whom have adopted from or had other interactions with Palo Alto Animal Services; some who want to volunteer and others who signed up to keep up to date on the FoPAAS events. Of course, it wouldn't have been possible without our volunteers!
Thank you Hillary, Bob, Laura, Sachi and her two daughters; Scottie, Gloria, Judy; and Theresa and Marilyn without whom the "easy up" (which isn't easy down, either) might still be half up (or would that be half down?) in the middle of Mitchell Park! Special thanks to Bill and Pam (and Roxanne) for hanging around so long and to Animal Control Officer Casey for stopping by!
Source: Maureen Allen and Susan Stephens, Co-Organizers – Fairs and Festivals