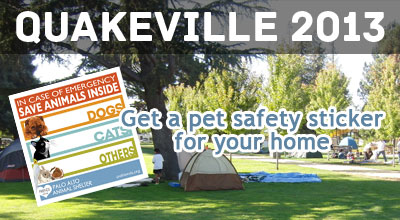 FoPAAS invites you to join us at Quakeville 2013
Date/Time
September 21, 2013
1:00 pm - 4:00 pm
Location
Cubberley Community Center, Palo Alto
---
Our City has plans to keep your pets safe in the event of an earthquake. Animal Services (PAAS) and Friends of the Palo Alto Animal Shelter (FoPAAS) look forward to seeing you at the Cubberley Community Center for
Quakeville
! Meet public safety experts and learn what you can do to prepare your family and pets for an emergency.
We have our Pet Safety Stickers ready for your home at our table. This easy-to-use sticker will let the first responders know that pets are inside your home. Just look for us and get your sticker!!

---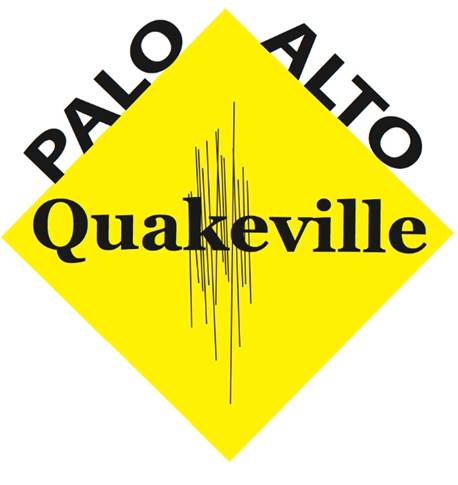 Please note the Quakeville CampOut component has been cancelled for the evening of September 21
to support the recently City Council passed Ordinance 5209, enforcing the established community facility hours. Naturally, as founder of Quakeville with the objective as to bring awareness to evacuation and alternative sheltering, it is disappointing. However, we do not want to send a mixed message and cause for confusion with regard to the enforcement of this Ordinance.
It is still a "GO" for all the activities during the day of September 21st, the Emergency Services Volunteers' training drill and the exhibits displaying Safety/Emergency Preparedness promises to be greatly educational and exciting! September is after all National Preparedness Month and as President Obama reminds us in the attached proclamation, "During National Preparedness Month, we refocus our efforts on readying ourselves, our families, our neighborhoods, and our Nation for any crisis we may face."
With the recent disasters in Colorado with flooding and our own Rim and Mt. Diablo fires, it is even more prevalent that we come together as a Whole Community to learn what we can do ahead of time. After a disaster, it is documented that it is our neighbors who are the first on the scene and who will come to your aid. Do you know if your neighbor is a City of Palo Alto Emergency Services Volunteer (ESV)? Find out more at Quakeville and see some of your neighbors in action as they practice to respond to emergencies.
More information is posted at www.cityofpaloalto.org/quakeville
---