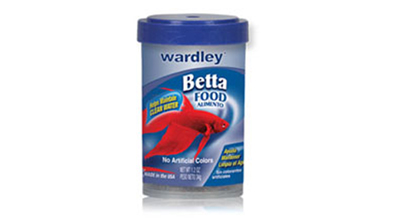 Hartz Recalls One Lot of Wardley Betta Fish Food
The Hartz Mountain Corporation, a N.J.-based pet product manufacturer, is voluntarily recalling one lot lot of Wardley Betta Fish Food due to possible Salmonella contamination.
This Hartz Mountain recall is isolated to the following:
Wardley Betta Fish Food, 1.2-oz., UPC 0-43324-01648, lot PP06331
The affected products were shipped nationwide from May 13, 2013 through June 4, 2013 and packaged by Hartz at its Pleasant Plain, Ohio facility from a single production run. Routine sample testing conducted by Hartz as part of its quality control procedures detected the presence of Salmonella in the affected lot — PP06331.
According to the press release, Hartz is currently investigating the source of the problem.
Common symptoms associated with Salmonella poisoning include diarrhea, bloody diarrhea, nausea, vomiting, or abdominal pain. If you, your pet, or a family member are experiencing unusual symptoms, you are urged to contact a medical professional.
At the time of this release, there have been no reports of illness associated with this recall. However, Hartz urges betta fish owners who purchased this product to check the lot code, found on the bottom the container. If the container has the lot code PP06331 imprinted on it or if you are unable to decipher the lot code, immediately discontinue use of the fish food product and discard in the trash.
For further information or to obtain a refund call Hartz Consumer Affairs at 1-800-275-1414. The number will be monitored 24 hours, 7 days a week.