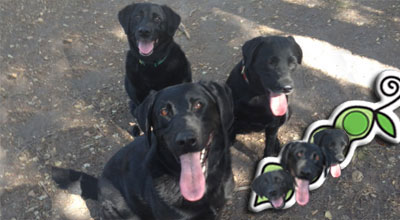 Peace of Mind for Max
My husband & I have been supporters of various dog rescues and shelters for some time. We were lucky enough to find our latest pup through an organization called Peace of Mind Dog Rescue , which focuses on finding homes for pups whose owners are no longer able to care for them. They also help place in adoptive homes senior shelter dogs whose probability of being adopted by the general public is low.
I was impressed with the organization, especially with its help to elderly or sick owners planning for the future care of their dogs, that I knew I wanted to help support them in any way I could. We didn't really expect to see our next family member on the webpage so soon, but, when we did, we knew he was waiting for us! We saw Lex, a big and happy looking 8-year-old black lab and read the heartbreaking story: Battling cancer and unable to care for his dog, Lex's owner left him at a friend's house, where he was tied to a dog house 24/7. When the owner died, this sweet boy was bequeathed to Peace of Mind.
Seeing his video on the webpage made us think we had to foster him, at the very least. We brought him home to meet our two black lab girls, and it felt like he was part of the family from the moment we all met him.
He's called Max now, and our three are like peas in a pod!
Author: Penny Dunckel