Jumpin' Jack Flash!
We don't know what his story is, or where he came from. We do know one day shortly before last Christmas, he was brought as a stray to an animal shelter in a Northern California county. How far had he traveled, why was he running with no collar, tags or microchip, is part of his mystery. A bigger mystery to me is how anyone could allow a beautiful, young beagle like this one to run away and not try to find him.
Because it was close to Christmas, the small shelter named the dog Elf and a poster shows him with a little red Santa hat. Their vet checked him out and found him to be a healthy young dog however he did test positive for heart worm. Being a small shelter with limited funds, they were unable to provide the treatment for him. He was slated for euthanasia until someone thought to contact Linea McPherson of Nor Cal Beagle Rescue.
Linea immediately took over the care and treatment of this beagle, placing him in one of her special foster homes that cares only for elderly or very sick dogs. There his name became Ralph and he was kept in a crate during the 6 week treatment period. As soon as he was free of heartworm he was neutered and upon his release from the vet he came to our home until a permanent home could be found for him.
We brought Ralph to meet our two resident beagles and knew immediately this was not a 'Ralph', so his name was promptly changed to Jack — or more specifically — Jumpin' Jack Flash! And within three days it was clear we could not give up this boy. We adopted him.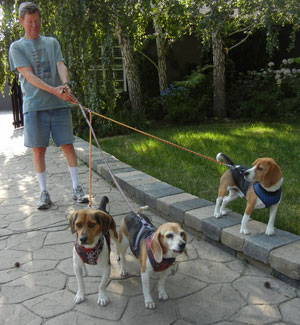 Jack has perfect beagle markings with two small exceptions; his ears are not as long as they should be, and his front legs are slightly bowed. So there may be a tiny teaspoon of some other breed lurking in his genes, but who cares? Jack is all beagle in every other way. What has impressed us is how gently Jack has insinuated himself into our home, carefully stepping around the jealousy shown by our goofy 2 year old beagle Chauncey and the neurotically needy 12 year old Daisy.
I sometimes worry about Jack when I think of where he may have come from, what he suffered as he wandered, hungry and alone in the cold of last winter. There is a sadness about this dog still, though he now will lift and wag his tail and shows all the exuberance of a 2 year old healthy dog. He quickly learned the routines of the house; when treat time or a walk is approaching. But even when he has had a good walk and dinner followed by a long cuddle, there is still something in his sad face that mystifies me.
My only hope is that we can give him enough love and security that someday that sadness will go away. Meanwhile we are very grateful this lovely boy has come into our lives. And we bless Linea McPherson for the incredibly valuable work she and her foster parents do at Nor Cal Beagle Rescue. They deserve all of our support and gratitude.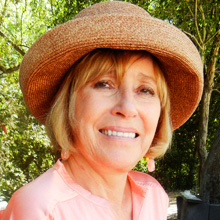 About the Author
Jeremy Lindston Robinson
,
our Vice President