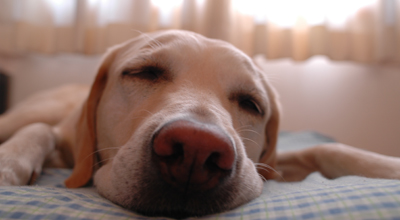 Tips for Keeping Pets Safe this 4th of July
Fireworks safety and common barbecue foods to avoid
When celebrating with family and friends this 4th of July, remember that fireworks and some common barbecue foods can be hazardous to the well-being of pets. The veterinary and toxicology experts at Pet Poison Helpline  offer pet owners these tips for a safe and happy holiday.
"Pets are unassuming and curious," said Dr. Justine Lee, DVM, DACVECC, associate director of Veterinary Services at Pet Poison Helpline. "Don't let the holiday be ruined with a pet mishap. Prevention is key and taking a few simple steps can ensure a safe and happy holiday for everyone in your family, including your pets."
Fireworks are the biggest perpetrators of 4th of July issues for pets, the most common being pet noise phobias . The loud noises can cause fear and anxiety for pets of all kinds, including dogs and cats and even horses. It is best to keep dogs and cats a safe distance from the activity – indoors is best. For pets with severe noise phobias, a veterinarian can prescribe anti-anxiety drugs or sedatives to help ease the stress. Larger pets, like horses and other livestock, are extremely susceptible to noise phobias. When in suburban and rural areas where these animals live, be considerate and contact the horse or livestock owner prior to having large fireworks displays so they can take appropriate measures to contain and reduce stress for the animals.
While most pet owners are aware of noise phobias, many are unaware that unused fireworks can be poisonous if ingested  by curious dogs or cats. Many contain hazardous chemicals like chlorates, potent oxidizing agents which are harmful to red blood cells and kidneys; soluble barium salts which causes a life-threatening drop in potassium; sulfur; and coloring agents, which can contain dangerous heavy metals. Gastrointestinal issues like vomiting, a painful abdomen and bloody diarrhea can result. The severity of the reaction will depend on the type of firework, the amount ingested and what type of coloring agents it contains. In severe cases, pets can suffer tremors or seizures, along with acute kidney failure, bone marrow changes, shallow breathing and jaundice (yellowing of the skin).
During backyard fireworks shows, it's not uncommon for fearless, unsupervised dogs to investigate flaming fused fireworks by biting into them. Obvious problems can result – thermal burn injuries to the nose, face, lips and mouth, as well as eye irritation. Emergency trips to the veterinarian are not uncommon in these situations. Avoid them by keeping pets a safe distance from fireworks – lit or unlit!
Outdoor barbecues are another age-old tradition on the 4th of July with rich savory meats, seasonal corn-on-the-cob and sweet desserts. Dogs would love to take part too, but unbeknownst to many pet owners, these common barbecue foods can make dogs sick .
Rich and fatty meats aren't toxic to dogs and cats, but can cause gastroenteritis including vomiting or diarrhea. However in severe cases, they can cause fatal pancreatitis, especially in certain dog breeds such as miniature schnauzers, Yorkshire terriers, and Shetland sheepdogs. Corn-on-the-cob is not toxic either, but can form a severe foreign body in the dog's intestines, resulting in vomiting and diarrhea. With corn cob ingestion, an expensive intestinal surgery may be necessary to remove the foreign mass. Other picnic  dangers? Desserts made with xylitol, a natural sugar-free sweetener, or foods containing grapes or raisins can also be harmful to pets. Xylitol results in an acute drop in blood sugar and even liver failure at high doses, while grapes and raisins can result in severe, fatal acute kidney failure. It's best not to share these foods with dogs or cats.