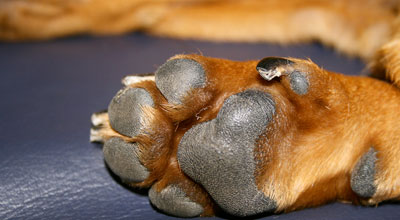 Your Dog's Paw
I noticed the dog ahead of me on the Bay Trail, lagging behind his master as he ran, limping, his tongue lolling out of his mouth, clearly in distress.  So I stopped my bike ahead of them and let them catch up to me as I engaged the man in conversation.
It was clear to me that the dog was in distress and his master was unaware of that, plugged in as he was to his iPod.  I expressed concern that his dog had injured his foot and when I enquired the owner said he had noticed that the dog was lagging behind but had not checked to see why.  I offered the dog some water from my bottle which he gratefully lapped up very quickly. Then I casually asked if he thought the pavement may be a little hot for the dog's feet.
The man had never considered that. He, wearing thick soled running shoes, had blithely thought his dog with his thick pads, didn't need protection from the heat of the pavement which by now was hot enough to almost fry eggs. The temperature was over 90 degrees.  I asked him if he ran with his dog a lot and he claimed he did, almost every day.
It was a pleasant conversation; my intent was not to scold or lecture this man.  But I raised some points that perhaps he could consider – like making sure the dog had water to drink, and maybe running at a cooler time of day would be a good idea.
I have researched dog's feet since that encounter and have learned a lot I didn't know before.
I learned that a dog's paw is made up of thick, rough pads made of fat and a very tough outer layer of skin. This tough pad can wear down and become thin from running on rough surfaces like pavement.  It can actually become quite soft in hot temperatures. If the pads haven't been given time to restore they can be very susceptible to being burned or injured.
A dog's nails should be trimmed regularly and the fur between the toes checked for burrs, foxtails and small stones. Scratches, cuts or other wounds can show up if a dog has been running on pavement for a long time or in the woods where any number of foreign bits can become caught between the toes.
A dogs feet are very adaptable to climate and conditions.  I saw that when my parents returned to Canada with one of my dogs who had always lived in California.  I was surprised when visiting them the next winter that Cinder had grown very thick pads under his paws to protect them during walks on the icy winter sidewalks!  So dogs can adapt to extreme conditions but sometimes we have to step in and recognize they need our special attention.
Water is a very big consideration too when running with a dog in hot weather.  The Bay Trail does provide convenient dog level drinking spigots along its length. When that is not available, many people running with their dogs have collapsible bowls attached to their belts to fill from their water bottles.
I hope the man was able to stop to consider his faithful running companion. The dog would never complain or refuse a run with his master. But checking a dog's feet and providing him with water during his run is part of being a good pet owner as well as a considerate friend.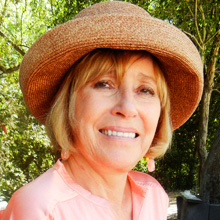 About the Author
Jeremy Lindston Robinson
,
our Vice President
Photo Credit: vagawi