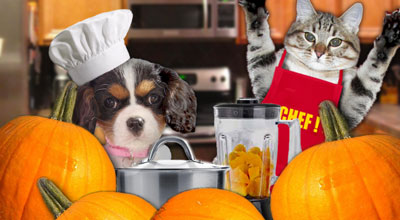 All Hail the Noble Pumpkin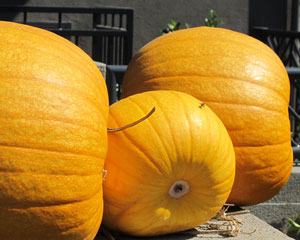 Pumpkin season is almost here and with it a scrumptious addition to your dog or cat's diet: pureed pumpkin. Not pumpkin pie filling with all those yummy spices—just plain old pumpkin.
There is something in pumpkin that cures what ails you; good for everything—sort of like Grandma's lye soap. Pumpkin added to your pet's food keeps them regular. It helps with indigestion and upset stomachs. It treats diarrhea and constipation with equal effectiveness.
Dogs love pumpkin, and added to their meal, it fills them up and gives them a satisfied feeling. You find pumpkin as an ingredient in high quality kibble for good reason.
If your dog is little on the hefty side, this is the answer! Reduce a portion of their regular food and replace it with the same portion of pumpkin. (A half cup is only 40 calories.) They will thank you for the tasty treat mixed with their boring kibble. A few teaspoons a day for little doggies and pups; a couple of tablespoons for the bigger dogs.
Though cats can be more finicky, they usually love pureed pumpkin, too. I know a cat who likes to lick the spoon used to add pumpkin to the dog's dish.
Unsalted, roasted pumpkin seeds (called "pepitas") are high in essential fatty acids and antioxidants, which are good for healthy skin and fur. The oils of the pumpkin flesh and seeds support urinary health. Pumpkin is a great source of Vitamin A, beta-carotene, potassium and iron and can even reduce the likelihood of cancer. And that's it—the miracle of the noble pumpkin.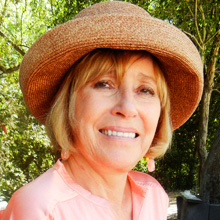 About the Author
Jeremy Lindston Robinson
,
our Vice President